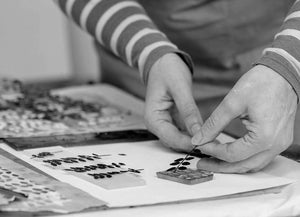 Master Craftsman
Independent Maker Sue Gregor uses her years of experience to individually make each piece of her beautiful botanical contemporary jewellery. Her work is inspire by the perfection of Nature. She uses 100% recycled plastic and real plants, which make each piece not only sustainable jewellery but also unique.
Testimonials
Just a quick email to let you know how delighted I am with the cuff bracelet I have purchased from you.I am totally impressed with it! It is very beautiful and skilfully made and i'm going to really enjoy wearing it and admiring it! Keep up the good work!
I just wished to write to say that my new, smaller cuff arrived yesterday - thank you so much, it fits beautifully.
Just wanted to let you know the bracelet and earrings have arrived and they look amazing, thank you for all your help regarding the earrings and I look forward to purchasing from your store again.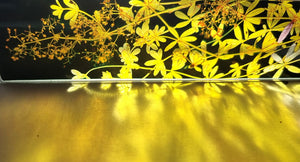 Individually Handmade
Each Piece of Jewellery is individually hand made using real leaves by Sue Gregor. The image shows a Amber & Green cuff before it is formed into a bracelet shape.. I love the sun light shining through this image.
Blog posts
Nature's Palette: Autumn Leaves Inspire the Beauty of Craft Jewellery" As the vibrant greens of summer transition to the fiery reds, oranges, and golds of autumn, nature's transition becomes a spe... more